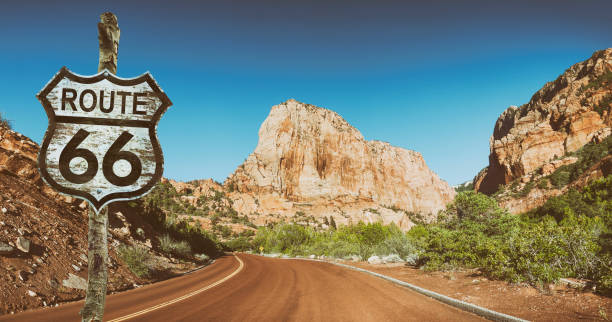 Route 66 is iconic -- a symbol of a changing America. Known as "America's Highway" during its heyday, Route 66 was driven by millions of drivers between Illinois and California. However, by the 1970s, the Route 66 of popular culture sadly became obsolete.
Back in the 1920s, entrepreneurial businessmen Cyrus Avery and John Woodruff imagined a "superhighway" linking Chicago to Los Angeles (Santa Monica Pier). The highway snaked through eight states -- Illinois, Missouri, Kansas, Oklahoma, Texas, New Mexico, Arizona and finally California. Its original length was about 2,400 miles. It would help bring industry from the East to the West. Route 66 received official designation in 1926, after the government enacted a plan for national highways. Planners intended Route 66 to be more than just a quick way to get from east to west -- they wanted to connect the main streets of rural and urban communities. Route 66 would give many small towns their first access to a major road. Route 66 was the symbol of opportunity to hundreds of thousands of people seeking escape from the despair of the Dust Bowl in the 1930s.

The same plan for national highways that birthed Route 66 also helped bury it. After World War II, the highway system needed an overhaul. In disrepair, Route 66 could no longer handle its own traffic. Highway planners began building more direct routes between cities. As they did, they diverted, bypassed or otherwise realigned Route 66. Route 66 lost its official United States Highway designation in 1985.

Maybe you're wondering why anyone cares about an old, out-of-date road. Why are there so many organizations and museums dedicated to keeping the spirit of Route 66 alive? There are many reasons. Route 66 represents a true piece of Americana. Because this road wound through so many tiny towns, hundreds of odd little trading posts, motels and attractions popped up along the way. Although Route 66 faded into obsolescence, many of these pit stops remain -- frozen in time like ghost towns.

Route 66 holds a special place in American history. It illustrated the evolution of the American road from unpaved dirt to superhighway. It provided an economic and social link between the West and the Midwest, offering an artery for millions of people to relocate and change their lives. Route 66 assisted in transforming the West from wild frontier to modern community.