Save money and create your own do it yourself household cleaners that really work!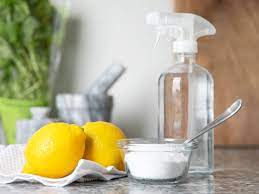 Scented All-Purpose Cleaner
One part white vinegar
One part water
Lemon rind Rosemary sprigs
Combine the above ingredients together, pour into a spray bottle, shake, and then let infuse for a week before using.
Kitchen Cleaner and Deodorizer
4 tablespoons baking soda
1 quart warm water
To clean kitchen counters, appliances, and the inside of your refrigerator, all you need is baking soda for this homemade kitchen cleaner.
Glass Cleaner
2 cups water
½ cup white or cider vinegar
¼ cup rubbing alcohol 70% concentration
1 to 2 drops of orange essential oil
This homemade cleaner will leave your windows and mirrors sparkling. Simply combine these ingredients and pour them in a spray bottle to make a homemade cleaner with ingredients you already have on hand.
Heavy-Duty Scrub
½ lemon
½ cup borax powder
Rust stains on porcelain or enamel sinks and tubs are no match for this heavy-duty homemade cleaner. Dip the lemon into the borax and scrub the surface, then rinse.